Slimmer Hair Styling Gel for Men and Women - Natural Hair Gel for Curly Hair and Maximum Hold - Easy To Wash Out - All Day Hold For All Hair Styles - Keratin - Add Volume and Texture (750 ML) - ZMAK Hair Gel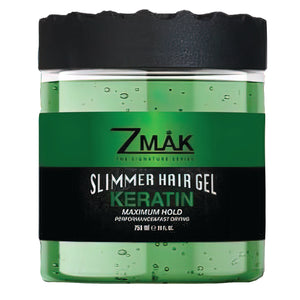 Slimmer Hair Styling Gel for Men and Women - Natural Hair Gel for Curly Hair and Maximum Hold - Easy To Wash Out - All Day Hold For All Hair Styles - Keratin - Add Volume and Texture (750 ML) - ZMAK Hair Gel
Regular price
Sale price
$14.99
MODERATE SHINE. This moderate shine Gel has a creamy consistency and provides a healthy, vibrant shine to your hair. Apply to damp hair for more shine and dry hair for less shine.

WATER-SOLUBLE. This pomade washes out easily with just water, and no special shampoos or soaps are needed. Do not leave hair greasy or stained after washing out. Leaves hair feeling healthy and clean after a quick rinse. No harsh chemicals to dry out hair or damage the scalp.

COMBS WITH EASE. Style your hair without frustration. ZMAK SLIMMER HAIR GEL Firm (Strong) Hold combs in with ease and provides a sturdy grip for maximum styling flexibility and less scruffy mess.

STRONGHOLD. This is a great pomade for hairstyles such as pompadours, slick backs, and side parts. Any hairstyle can be achieved with this pomade! If you have easier managing hair check out our medium, hold Original Hold Pomade.

COMMUNITY APPROVED. Born and bred in Santa Ana, California, ZMAK SLIMMER HAIR GEL Pomade takes its inspiration from the community in's thrived. ZMAK prides itself on community and quality. 
Order 2+ of any item(s) and save 15% with code: SPL15
Expiring Today